Well I guess we have finally accomplished the darn near impossible; we have entered the 21st century with a fully operational - dare I say impressive, 10 outta 10 website?
After months of hard work alongside the great people at Banyan Theory, we are proud to welcome you to our internet home. On the new Cohen-Miles website you'll find tons of useful tips, important information incase of a claim, billing #'s, learn about policies you may not currently have and that's just the start. I promise you, you'll never find a website, inside of a website inside a website which is what Lou had dreamed up in his brain; then again Lou hasn't even heard of YouTube…
When brainstorming ideas for the site on what YOU, the customers crave, we started to notice a trend; people love EASY. Due to this observation (and obvious truth) we wanted to make our site so that with one click you could pay off your Auto premium, file a claim, or contact us to look over your Insurance policies. Remember, we work for you – not the Insurance companies. The fact that we have a shiny new website doesn't mean we don't love talking to you via phone, email and the occasional visit to the office – after all we do have a pretty large sized candy jar that is fully stocked…ohh, did I forget to mention we have an office puppy who'll be making sporadic appearances?
If you ever need to contact us our information is in the "Contact Us" tab on the top right of the landing page. Lou is obviously the owner and can help you with just about anything though he will more than likely eventually pass you off to Chris or myself. Chris handles the Commercial lines book of business and dabbles in some Personal Lines fun from time to time; she is a wealth of information. When I say myself, I'm obviously referring to Matt; I mean who else would be able to write such a cunning, action packed first blog entry. Just like my Father, Lou, I can help you with just about anything - from Homeowner polices to Package policies for Food Trucks, I am your guy. The 3 of us make up the Cohen-Miles team though if you come in on a good day you may meet Ozzi, Lou's labradoodle or Ranger, Matt's genius Aussie pup.
We're here for you, let us know anything you want to see or if any problems arise. If you're a big phone web browser we've even built a special CMI landing page for you.
I think that does it, blog 1, complete.
Meet Ozzi: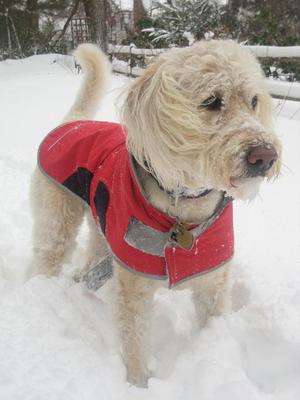 Meet Ranger: